About Our Product
Carbon Fiber
Carbon Fiber
Patriot
Patriot
3 Bikes
3 Bikes
Mrrflector
Mrrflector
Balance
Balance
Above we present our standard mirror series. We mount a 1.5" glass mirror to a stainless bicycle spoke.  The end result is a light mirror offering a wide view area with little wind resistance.  Unlike cheaper mirrors that use ball and socket joints, cheap metal mirrors and plastic a Tiger Eye stays in place after you install it.
The helmet mount weighs only 17 grams while the Sport Glass model weighs 15.59 grams. All models are available in a Helmet Mount style, which fits all foam encased helmets. The Sport Glass Mount, which fits on your shades as long as they don't have round or thin wire temples, is available for Chainring, Original, Carbon Fiber Look, 3 Bikes, Mrrflector and the Patriot.
Mrrflector is the first and only helmet mirror to incorporate a reflector and has become one of our most popular designs.
Balance, which features a silver metallic border, is only available at the teamtigereye online store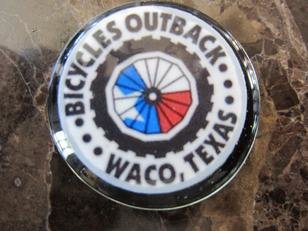 ALWAYS WEAR EYE PROTECTION WHEN YOU RIDE ESPECIALLY WITH A TIGER EYE SINCE THE GLASS MIRROR IS BREAKABLE

In Texas, Colorado and Arizona we currently offer your state flag.  In Texas, the Lonestar is our most popular design.

An example of one of our custom mirrors. The sky is the limit here with a minimum order of 12 Tiger Eye's with no setup fee with a supplied graphic.